SWISSto12 HummingSat product line secures strong support at ESA Ministerial Council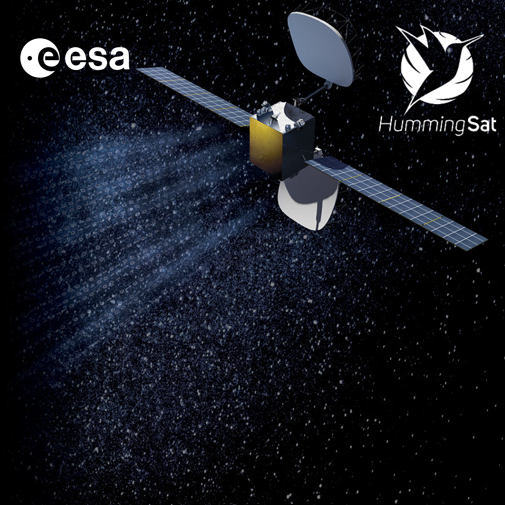 Lausanne, Switzerland, January 18 2023
SWISSto12, Switzerland's fastest-growing aerospace company and a leading manufacturer of advanced satellite payloads and systems, today announced that the HummingSat Partnership Project with the European Space Agency (ESA) is moving forward in the roll-out of the HummingSat satellite product line thanks to fresh subscriptions in excess of €30 million received at the ESA Ministerial Conference Meeting end of November. Participating States are Switzerland, Germany, Sweden, Canada, Austria, Norway and the Netherlands, with further subscriptions expected to be received soon. SWISSto12 is playing an important role in Europe's new space ecosystem and collaborates closely with ESA to foster innovation in the European space industry and develop new satellite products.
The funding will allow SWISSto12's HummingSat product line that is being developed in partnership with ESA to fully roll-out. Recently, SWISSto12 announced that it will produce the first satellite of this product line, the IS-45, for Intelsat, making SWISSto12 the first scale-up specialist in the history of the industry to sign a contract of this nature with an established telecommunications operator. Named after the tiny, agile hummingbird, SWISSto12's HummingSat product line is a showcase for the disruptive technologies emerging in Europe's space landscape. Lightweight and small, it is far more cost-effective and sustainable than conventional satellites, paving the way for better connectivity across the globe.
Dr. Emile de Rijk, SWISSto12 founder and CEO, said: "At SWISSto12, we are proud to be at the core of Europe's new space ecosystem. With our HummingSat product line, we are building a next-generation telecommunications infrastructure with the goal of reliably connecting communities and businesses. ESA has been an invaluable partner in funding and expertise along this journey. The new funding will help us to make the disruptive technology of HummingSat a global success."
Andreas Mauroschat, ESA Partnership and Opportunity Satellites Programme Manager, said: "HummingSat is a showcase for a successful ESA Partnership Project and we are delighted to support European and Canadian industry in this exciting new-space venture. The project has been set up in record time and within only a few months SWISSto12 has sold the first commercial HummingSat to global satellite operator Intelsat. ESA Partnership Projects federate the European and Canadian space industry around large-scale programmes, achieving competitive leaps forward and economic impact. They support end-to-end space systems from start-up to in-orbit validation, after which commercial partners operate the system."
The Ministerial Conference of the ESA in Paris took place from 22nd until 23rd November. ESA members had agreed to contribute €16.923 billion over the next three years, a 16.6% increase from the previous ministerial in 2019 with Switzerland contributing 3.7%. The Swiss Space Office also subscribed a higher amount compared to the previous years, showing its strong commitment to support space innovations in Switzerland.
The demand for next-generation satellites, advanced communications, and more sustainable access to space is skyrocketing – in Europe and globally. SWISSto12 are committed to contributing to the European space ecosystem with the goal to ensure its competitiveness on the worldwide market.
Press Contacts
Geordie Hazeel, Kekst CNC – [email protected] – +49 162 2694982
Maximillian Fett, Keskt CNC – [email protected] – +49 174 6390222