SWISSto12 and Thales sign first contract to develop and supply new Solid-State Power Amplifiers (SSPAs) for geostationary satellite missions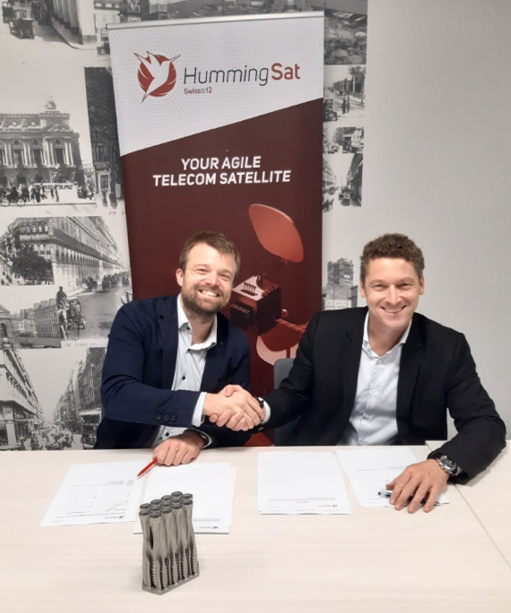 Paris, 31 January 2023
SWISSto12, Switzerland's fastest-growing aerospace company and a leading manufacturer of advanced satellite payloads and systems, today announced the signing of its first contract with Thales, the global high technology leader. Thales will develop and supply the Ka-band Solid-State Power Amplifiers (SSPAs) that will be a key component of the antenna link between Earth and SWISSto12's HummingSat range of next generation, small-sized geostationary telecommunications satellites.
This first contract with a New Space player is a further illustration of Thales's ability to adapt to the needs of a sector that has been profoundly impacted by demand from geostationary telecom satellite operators for more flexible coverage, and by the expanding role of satellite constellations. The agreement further consolidates Thales's position as a full-range supplier of amplification solutions, from conventional travelling wave tubes (TWTs) to compact, lightweight dual-TWT and SSPA products.
The SSPA amplifiers from Thales will be part of the array antenna of the HummingSat payload. More compact, less expensive, optimised for size and weight and with highly integrated electronics, these innovative amplifiers are perfectly tailored to the needs of new small-sized GEO satellites like HummingSat.
These advanced technologies are the result of successful collaboration within the Thales organisation. The Group has set up a dedicated team to develop SSPA products that meet the time-to-market and design-to-cost requirements of customers. Thales expects to achieve qualification of its SSPA product line in 2024.
"We are delighted to be pursuing this collaboration with Thales, a world leader in satellite power amplification. The cutting-edge technology from Thales has been developed in close connection with our antenna solutions and is a strong match for the telecommunications infrastructure offered by the HummingSat product line. Our platform is a showcase for the disruptive technologies emerging in Europe's space landscape and offers the capacity, performance and flexibility that satellite operators need to address previously under-served markets," said Dr Emile de Rijk, founder and CEO of SWISSto12
"Technical innovation is part of the DNA of Thales's Microwave and Imaging Subsystems business, and we're delighted to be collaborating with such a dynamic and agile company for the development of a state-of-the-art Ka-band SSPA product for Swissto12's HummingSat platform." Cécile Assié, VP Strategy and Marketing, Microwave and Imaging Subsystems, Thales.
About Thales
Thales is a high technology global leader investing in digital and "deep tech" innovations — connectivity, big data, artificial intelligence, cybersecurity and quantum technology — to build a future we can all trust. This is vital for the development of our societies, which is why the company provides solutions, services and products that help its customers: businesses, organisations and states. These cover several key markets including defence, aeronautics, space, digital identity and security, allowing them to fulfil their principal missions by placing humans at the heart of the decision-making process.
Thales has 81,000 employees in 68 countries. In 2021, the company generated sales of €16.2 billion.
About SWISSto12
SWISSto12 is a leading manufacturer of advanced satellite payloads and systems, including the HummingSat: a small yet powerful geostationary telecommunications satellite. The company's satellites and payloads benefit from unique and patented 3D printing technologies and associated Radio Frequency (RF) product designs that deliver lightweight, compact, highly performing, and competitive RF functionality. Besides its space portfolio, the company is also active in telecommunications, surveillance and radar applications for the aeronautic industry. SWISSto12 has developed commercially with success in Europe, the USA and Israel and is the fastest growing Swiss aerospace company. SWISSto12 spun off in 2011 from the Swiss Federal Institute of Technology in Lausanne (EPFL), is privately owned and backed by prominent Swiss and European Investors.