Fleet selects SWISSto12 to deliver the first ever additively manufactured all-metal patch antennas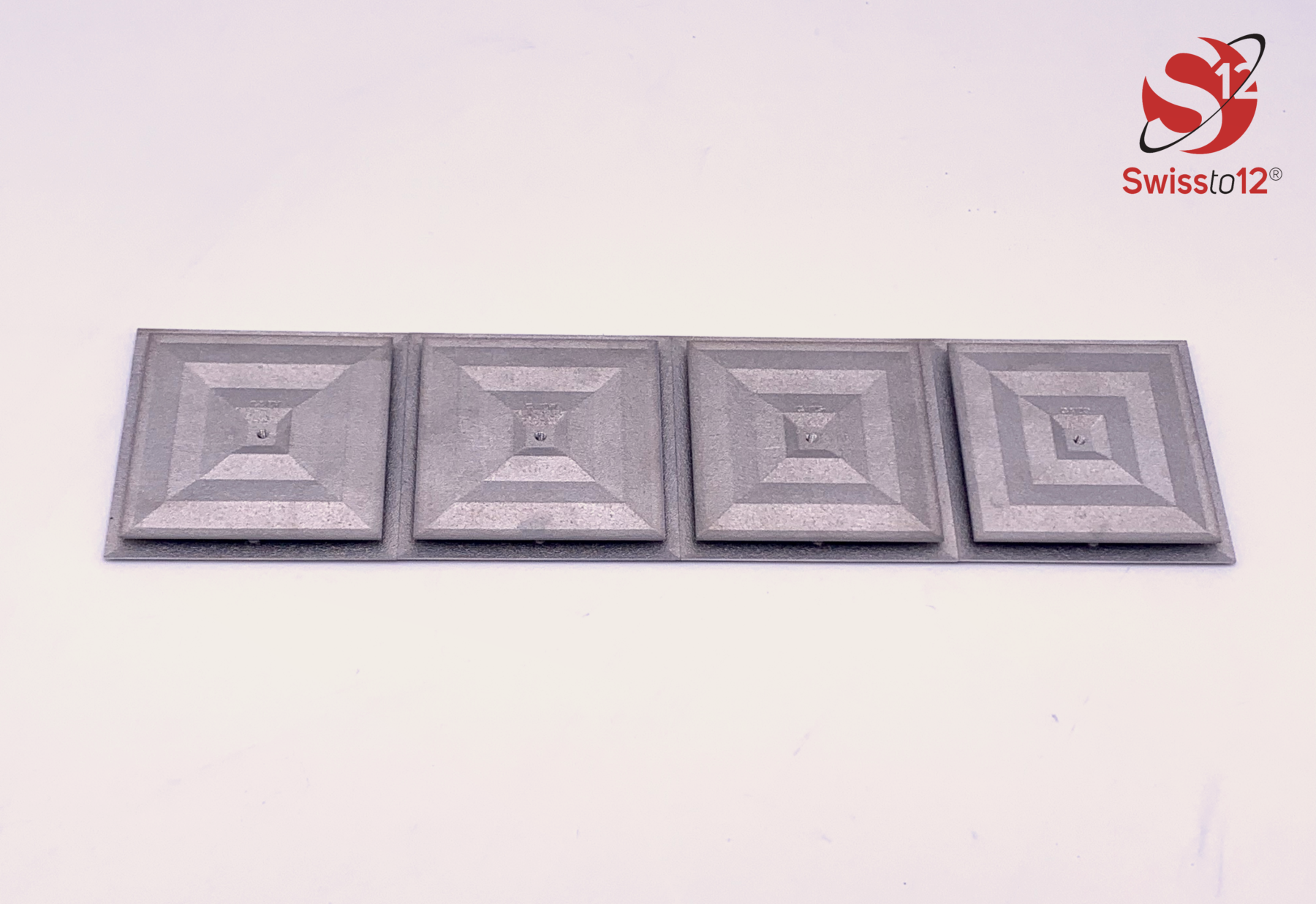 Lausanne, Switzerland – 9th February 2021 – SWISSto12 has been selected by Fleet Space Technologies, an Australian Nanosatellite Manufacturer, to deliver the first ever additively manufactured all-metal patch antennas for Fleet Space's C4 and C5 satellites.
The contract will include the manufacturing with SWISSto12's patented and space qualified additive manufacturing processes specially optimized for RF applications. Fleet Space has chosen SWISSto12 because of its impressive heritage of 3D printing RF products in the Space and Defense Industry. SWISSto12's manufacturing approach of an all-metal patch antenna system breaks with traditional materials and manufacturing approaches and enhances electrical performance and mechanical integrity.
This milestone builds upon the product portfolio strategy of SWISSto12 in the nanosatellite market, where it has worked both on innovative and high value products in collaboration with customers such as FleetSpace, but also on its own product portfolio of filters and antennas to cover the needs of nanosatellites that typically operate payloads in L, S, and X bands and require affordable filters and antennas with a small form factor, low weight and unsacrificed performance.
"SWISSto12 is excited to collaborate with Fleet Space to deliver the antennas for the powerful comms nanosatellite in LEO with each nanosatellite having the capacity to connect to tens of thousands of gateways", said Dr. Emile de Rijk, Founder and CEO of SWISSto12. "3D printed RF products with our patented manufacturing technology allow our customers to push the limits further".
Fleet Space CEO Flavia Tata Nardini says "I have been working and launching nanosatellites for more than 10 years now and I have never been so excited by a technological breakthrough such as this latest generation of the payload. This and the new 3D printed antennas that my amazing team have built at Fleet Space. We can finally demonstrate how powerful nanosatellites can be in the comms world. We call this payload the Knight. Look at it, you can understand why!"
About Fleet Space
Fleet Space Technologies is an Australian satellite company building a global digital nervous system to power the next industrial revolution. Backed by Blackbird Ventures, Horizons Ventures and Mike Cannon-Brookes, the company was founded in South Australia in 2015 and made history by launching Australia's first commercial nanosatellites in 2018, the beginning of a planned constellation of 140 LEO nanosatellites that will connect billions of digital sensors already transforming industries from energy and utilities to mining. Fleet Space is scheduled to launch its next generation of nanosatellites in 2021.