SWISSto12 and SatixFy team up on advanced payloads for MEO and GEO telecom satellite programs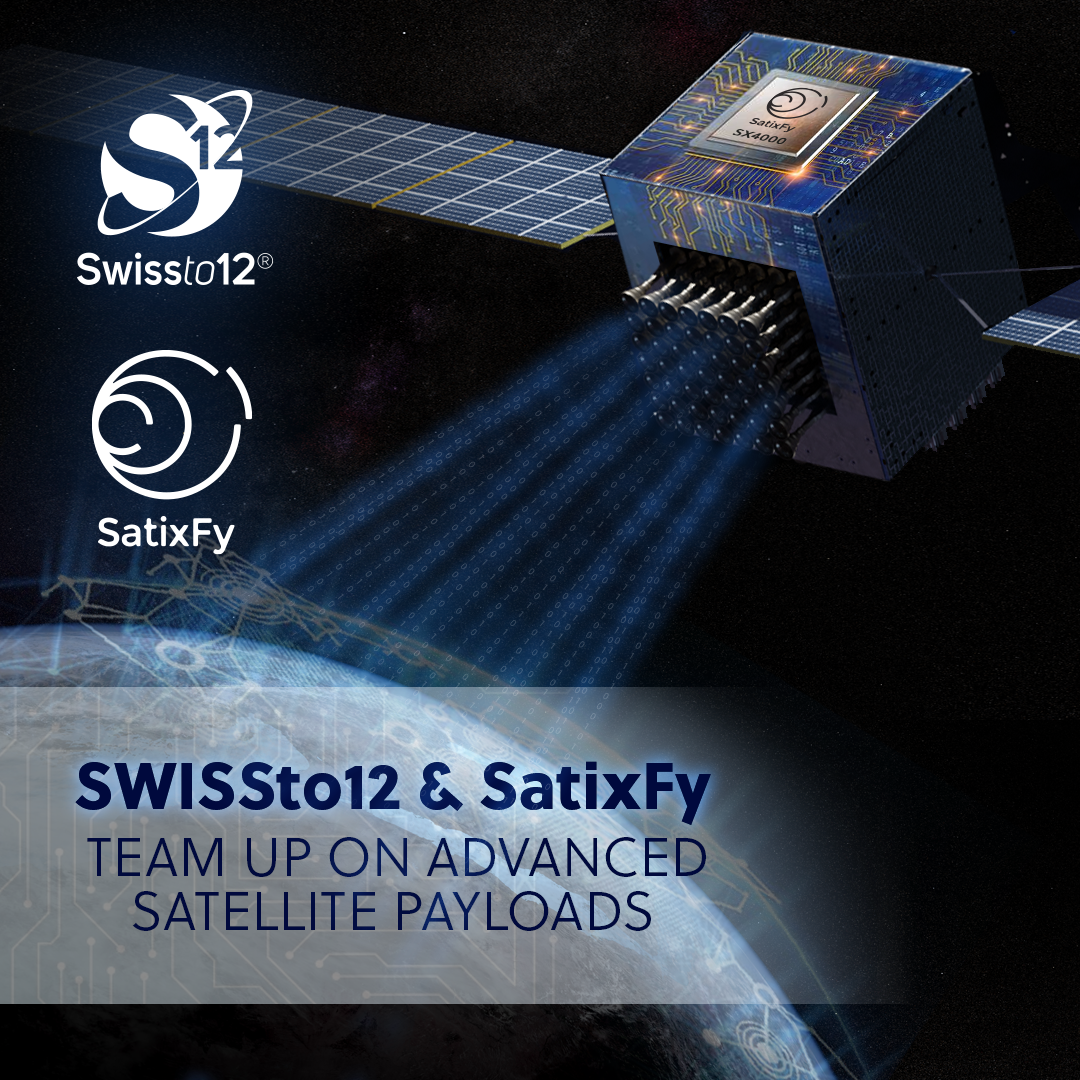 Lausanne: Switzerland, Farnborough: UK
— SWISSto12, a leading provider of 3D printed antenna and RF system products for the Aerospace and Defense industries and SatixFy, a leading developer and manufacturer of advanced digitalprocessing multibeam and beamforming products and systems for communications over satellite announced today a strategic teaming for the development and commercialization of end-to-end MEO and GEO telecom satellite payloads.

Both companies are working together on multiple advanced payload programs and opportunities for telecommunication satellites. SWISSto12 and SatixFy contribute with best-in-class products that are essential and complimentary to the architectures of advanced digital payloads. Such systems require highly capable on-board digital signal processing capabilities to deliver re-configurable, channelized, switchable and regenerative payloads capable of beam-hopping and beamforming processes. These advanced digital payloads need to work hand-in-hand with best-in-class active antennas that have the capability to deliver high power and creating RF beams that follow customers demand on the ground. The combination of these technologies enables flexible telecom payloads which are a true game changer for satellite operators to boost profitability and reduce business risk in their operations. The technologies, being digitized and Software defined, allow for a highly programmable, self-calibrating Software Defined Payload enabling unprecedented fast time to market.
SatixFy contributes to this partnership with its Software Defined, high bandwidth product portfolio in flexible digital payloads and beamforming technology that leverages upon its radhard SX4000 and Prime2 ASICs. SWISSto12 contributes to this partnership with its disruptive active antenna technology that leverages upon its unique 3D printing capabilities for RF applications. In partnership, the two companies seize the opportunity to co-engineer end toend payloads with and optimal integration, systems engineering and optimization approach for maximum performance of telecom missions.

"This partnership with SatixFy will bring both our unique product capabilities together for the benefit of next generation advanced telecom satellite payloads. We look forward to our work with satellite integrators to provide these new payload products", says Dr. Emile de Rijk, CEO of SWISSto12.

"SatixFy and SWISSto12's combined product capabilities offer an important opportunity to provide the most integrated and advanced full payload systems" said Charlie Bloomfield, CEO of SatixFy Space Systems. "This cooperation will allow for payloads that demonstrate significantly improved size, weight and power compared to currently available systems."

For more information please visit:
https://www.satixfy.com or https://www.swissto12.com.

About SatixFy
SatixFy is a vertically integrated company that provides ASICs and products across the entire satellites communications (satcom) value chain. Its products enable critical remote connectivity applications globally and incorporate the latest technology advancements. SatixFy designs its own silicon proprietary chips, codes its software, builds its products and designs end-to-end systems for use in various applications and services, such as in-flight connectivity, IoT, communication payloads, consumer broadband, and more. The company leverages its research and development (R&D) and technical capabilities to design standard based communication products and systems with the most desirable qualities, such as: higher capacity, lower power consumption, lower weight, and lower cost.

About SWISSto12
SWISSto12 is the leading developer of advanced engineered Radio-Frequency (RF) products and systems for telecommunications, electronic warfare and radar applications in the Aerospace and Defense industries. The company's patented 3D printing technologies and associated product designs are unique to deliver lightweight, compact, highly performing and competitive RF products and sub-systems. SWISSto12 has developed commercially with success in Europe and Israel with prominent partners and customers such as Thales, Airbus Defense & Space, Elbit, IAI and the European Space Agency. SWISSto12 is the fastest growing Swiss aerospace company, spun off from the Swiss Federal Institute of Technology in Lausanne (EPFL), is privately owned and backed by prominent Swiss and European Investors.